2016 Jimbo Devries Golf Scramble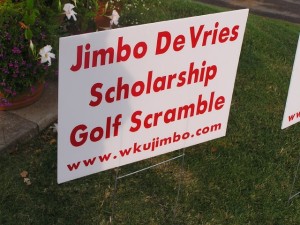 Please mark your calendars for Friday, September 23rd at 1pm. The 18th annual Jimbo Devries Scholarship Golf Scramble will be taking place once again at the Crosswinds Golf Course in Bowling Green, Ky.
JIMBO DEVRIES GOLF SCRAMBLE – 2016
REGISTER FOR THE GOLF SCRAMBLE
When: September 23, 2016
Where: Crosswinds Golf course – 1pm Shotgun start
This will be our 18th annual tournament. We have awarded over 37 scholarships in Jimbo's name and we couldn't be more excited about the legacy we've been a part of. Thank you to all that have supported us over the years. The Devries family continues to be overwhelmed by this effort.
Link to Crosswinds Golf Course
---